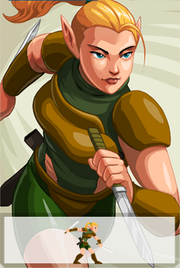 "Lightly armored melee units that wields two long daggers."
-In game description
Scouts are the first unit for Elves. You can upgrade the Scout Camps, and thus the Scouts, at levels 7, 11, 14, and 20.
Scouts are the first and most cheapest yet least costly of all the aspect of both money and populations. Their Military Builiding is the Scout Camp.
Appearance
Edit
Scouts are best known for having a ponytail tied with a dark green band on their orange-blond long hair. By the hair crown, there's a 'bang' that flipped to the left. They have thin darker eyebrows, and their eyes are almond-shaped with cyan-sky blue irises. They have body shape of a teenage girls, since dexterity and agility is affected mostly by body's coordination and mass.
They wear skin-tight catsuit-like olive green shirt and have a leather chestlet covering the mid torso. The collar is shaped like a turtle-neck, next to it are shoulder pads along with pair of arm bracers by the arms. The skin-tight catsuit-like shirts has cuttings like a bathsuit, their pants seems to be connected with it, but has a lighter color and only reach the mid-thigh length. Scouts have a pair of dagger hilts on their behind, tied to it is a belt connected to a 'jockstrap'-like garment. They wear a pair of brown 'riding boots'.
Scouts are small, yet have quick steps are speedy attacks. Their pace are like scouting ninjas, they moves about in a crouch posture, their left hand with a dagger up front quite low, and the right hand with the other dagger at behind quite high. As they slashes their enemies, they slashes with the left hand first, followed by the right hand. This is very effective and fast enough to take on small fries and to advance ahead of friendly ranged combatants to take damage for them.
Cost of Scout

| # of Units | # of Population Needed | Cost | Time |
| --- | --- | --- | --- |
| 5 | 5 | 100 | 30 sec |
| 12 | 12 | 240 | 2 min |
| 30 | 30 | 600 | 5 min |
| 50 | 50 | 1,000 | 10 min |
Scout Lvl 1 Properties

| | |
| --- | --- |
| Role | Melee |
| Cost | 10 |
| Speed | Fast |
| Armour | Light |
| Health | 3/10 |
| Damage | 1.1/10 |
| Attack Speed | 8.2/10 |
| Range | 0.9/10 |
Scout Lvl 2 Properties

| | |
| --- | --- |
| Role | Melee |
| Cost | 10 |
| Speed | Fast |
| Armour | Light |
| Health | 3.2/10 |
| Damage | 1.1/10 |
| Attack Speed | 8.3/10 |
| Range | 0.9/10 |
Scout Lvl 3 Properties
Role
Melee
Cost
10
Speed
Fast
Armour
Light
Health
3.3/10

(+11% health)

Damage
1.2/10

(+11% damage)

Attack Speed
8.3/10
Range
0.9/10
Scout Lvl 4 Properties
Role
Melee
Cost
10
Speed
Fast
Armour
Light
Health
3.6/10

(+10% health)

Damage
1.3/10

(+10% health)

Attack Speed
8.3/10
Range
0.9/10
Scout Lvl 5 Properties
Role
Melee
Cost
10
Speed
Fast
60 speed
Armor
Light
1 armor
Health
3.7/10

(+9% health)

1,125 health
Damage
1.4/10

(+9% damage)

180 melee damage
Attack Speed
8.3/10
1.35 attack speed
Range
0.9/10
20 attack range