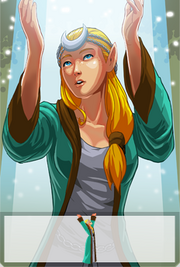 "Healing units that do not attack, but will heal other wounded units."
-In game description
Healers are the first crafted military support unit. After reaching level 8 and finishing Military Training research, you can complete Combat Healing research. This unlocks the Sacred Grove building, which can be purchased for 2,000 silver. You can upgrade this building, which upgrades the Healers, at level 13, 16, and 22.
Healers are famously known for their quick-witted mind to heal their allies faster than Medics and Curers. Their Military Building is the Sacred Grove.
Appearance
Edit
Healers, have long golden hair pulled back and tied by a short tip of the end. They have curved eyebrows along with their leaf-shaped turquoise eyes. Healers, have a tall posture, signifying the original physiology of the Elven race.
On their head, they wear a circlet like headress that looks like a crescent moon-shaped crest tied together with two rosaries-like strips. Healers wear a feet-long cotton turquoise robe with chocolate hemlines followed with the inner dress called camisole which are practically silvery gray, and it also as long as the robe.
As known that Healers job in battle is to heal, they are best known to heal quite fast, but not as potent. They rises their hands at the sky praying for good health of their wounded allies. Since they can heal allies quicker, they are best to tag along with a group of allies, best with some few other Healers of course.
Cost of Healer

| # of Units | # of Population Needed | Cost | Time |
| --- | --- | --- | --- |
| 4 | 24 | 1200 | 10 min |
| 10 | 60 | 3000 | 30 min |
| 18 | 108 | 5,400 | 1 hr |
| 32 | 192 | 9,600 | 2 hr |
Healer Lvl 1 Properties

| | |
| --- | --- |
| Role | Healer |
| Cost | 35 |
| Speed | Medium |
| Armour | Light |
| Health | 2/10 |
| Healing | 1.5/10 |
| Attack Speed | 7.8/10 |
| Range | 3.5/10 |
Healer Lvl 2 Properties
Role
Healer
Cost
35
Speed
Medium
Armour
Light
Health
?/10

(+12% health)

Healing
?/10

(+12% damage)

Attack Speed
7.8/10
Range
3.5/10