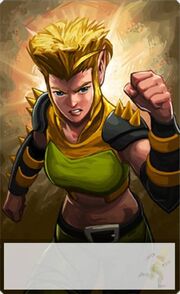 "So light and quick, Aerialists seems to be in the air all the time."
-In game description
Aerialists are melee units slightly better yet equivalent to Acrobats. Their levels are fixed or in this case, they are categorized as one of the special units.

Even though an Elf unit, and also quite similar to Acrobats, Aerialists doesn't have Military Building, so using Gold to buy them is the only way to have them in the army.
Appearance
Edit
Apparantly, Aerialists have gold-blond hair with the hairstyle like a spiky version of Hi-top fade. There are both side bangs that looks like sideburns. They have sharp arched eyebrow, their irises are sea blue, seems oval-sharp of the eye shape. Like the Acrobats, Aerialist posture are most prominently the slimming version of the 'optimum' body shape.
They wear a buttonless gilet that is lime green by the chest and yellow gold by the other parts. They wears studded protectives by both their shoulders and arms, and tied to them with yellow gold strips. They also wear black leather belts with basic silver buckle. Their pants are like those of the soldiers pants which is slightly more skin-tight and more green colored. They wear a pair of platform boots-like footwear.
As they are moving fast, they sprints forward to the enemies. Like how their class supposely is, Aerialists attacks are mostly consists of their kicks. They perform a double-kick by the style of a full backflip. Although they have studded protective shoulder pads and bracers, they only attack with their feet and never'll get tired or slowed.
Aerialist Stat

| Statistic | Summary | Details |
| --- | --- | --- |
| Role | Melee | |
| Cost | 45[1] | |
| Speed | Very Fast | 80 |
| Armour | Studded | 1.5 |
| Health | 5.1/10 | 2000 |
| Damage | 2.3/10 | 420 |
| Attack Speed | 9.5/10 | 0.75 |
| Range | 1/10 | 25 |